PRIVATE EVENTS
Host your private event at Amery Ale Works Bar(n). We can host and cater events ranging from corporate gatherings and birthday parties to retirement parties or Sunday Football Game Days.
We'd love to host your next event! Give us a call at 715-268-5226 or email us at ameryaleworks.events@gmail.com to discuss your event further. Rental fees range from $150-$500+ depending on type of event, duration and staffing.
Football Sunday Private Rental
Host the ultimate game-day football party! Reserve the taproom of the Amery Ale Works Bar(n) and enjoy game day with friends and family. The game will be shown on our two TV's and one big screen projector and we'll be serving up craft beer, wine and delicious Sake Bloody Mary's.
Food packages from $9.95-$12.95 per person (minimum 20 people) or group appetizers (priced per appetizer).
Terms and Conditions: Rental Fee waived w/$500 minimum in food and beverage. Your group may arrive 30 minutes prior to the start of the game and must depart 30 minutes after the game is complete. A credit card is required for reserving your date and all cancellations 15 days prior to event incur a $100 cancellation fee.
Package 1
Hoagie subs, coleslaw, pasta salad and potato chips
Package 2
Mixed green salad and our delicious 16" pizzas
Package 3
Pulled pork sandwiches, coleslaw, and potato chips
Group Appetizer Options
Veggie Tray: Feeds 40 - $65 per tray
Cheese & Accompaniments: Feeds 30 - $70 per tray
Pasta Salad or Mixed Greens Salad: Feeds 30 - $50 per salad
Meatballs: Feeds 30 - $80 per order
Buffalo Chicken Wings: 75 wings - $115 per order
Hoagies Subs: 6 - 2" sandwiches per loaf - $10 per hoagie
Chips & Dips: Each Chip/Dip Combo Feeds 50
Salsa & Chips Only: $50 per order
Beer Cheese Dip & Chips Only: $125 per order
Beer Cheese, Salsa, Jalapenos & Chips: $150 per order
Spinach Artichoke Dip & Chips: $125 per order
Taco Dip & Chips: $100 per order
Potato Chips: $40 per order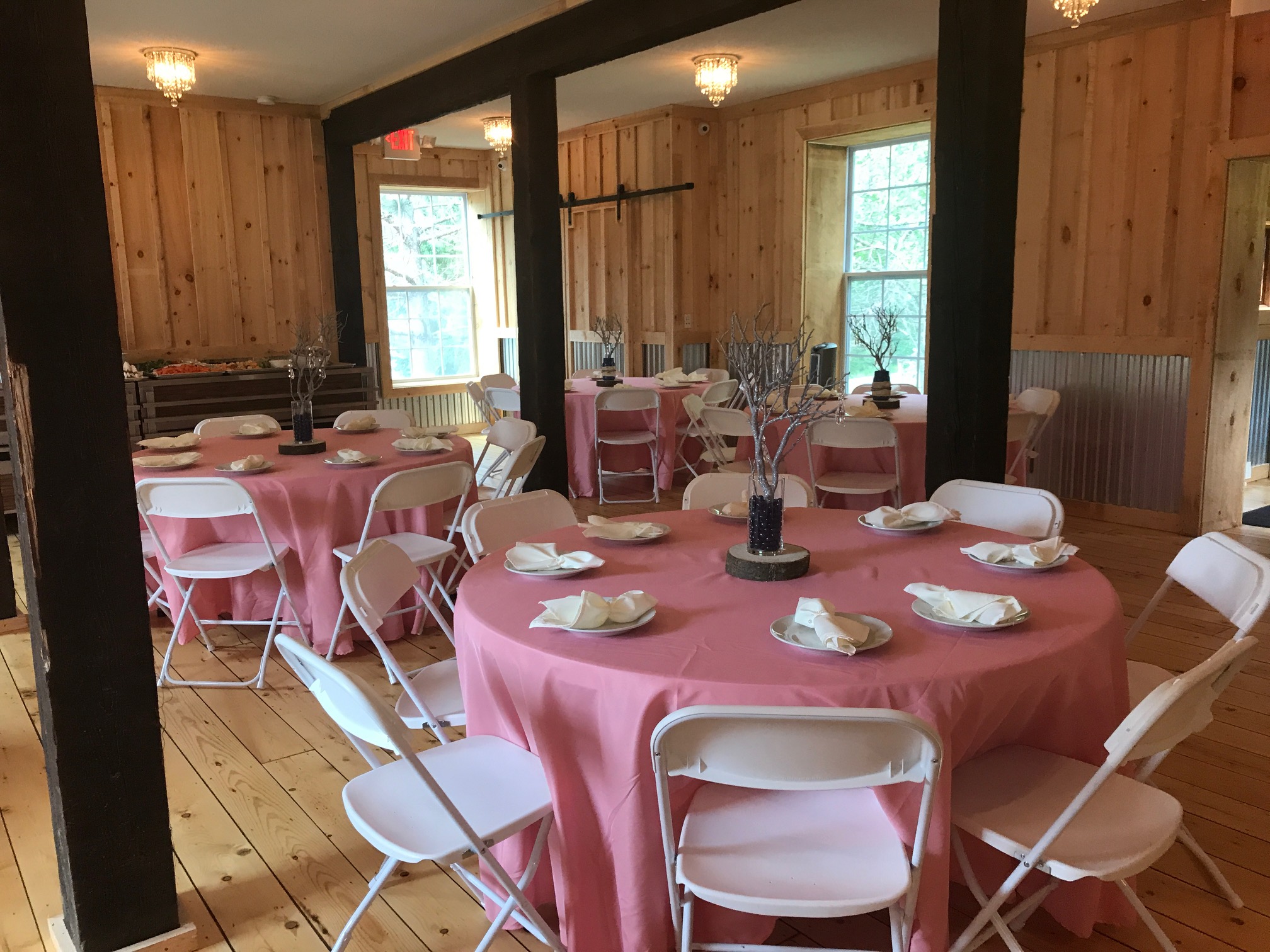 Upstairs Private Event Space
Our upstairs is the perfect spot to host a private event during our business hours. We having seating for approximately 70 people on our second floor. Finished in board and batten walls, this space offers buffet service, tables and chairs, private bar equipped with four craft beer offerings, wine and non-alcoholic beverages, one 60 inch TV and two bathrooms. Overflow space is available on the third level for an additional 35 seated guests.
This space is perfect for corporate holiday parties, graduations, birthday parties, retirements, rehearsal dinners and small intimate weddings. Give us a call at 715-268-5226 or email us at ameryaleworks@gmail.com to discuss your event further.
Click here to view our Food and Beverage Catering options.
And don't forget, no matter what event you host at the Ale Works, you are always welcome to enjoy our public outdoor spaces including our patio, back lawn with yard games and of course, the fire pit.